Kitchen – Banana Yoshimoto
Boekentip van Malou: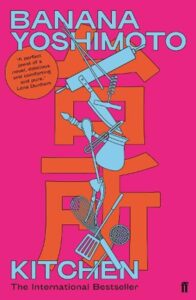 'When I lost track of reading, this was the perfect book to get myself back into the reading rhytm. A beautiful written book with two touching stories. It became one of my most favorite books.'
It is a startlingly original first work by Japan's brightest young literary star and is now a cult film. When Kitchen was first published in Japan in 1987 it won two of Japan's most prestigious literary prizes, climbed its way to the top of the bestseller lists, then remained there for over a year and sold millions of copies.
Kitchen – Banana Yoshimoto