10 minutes, 38 seconds, in this strange world – Elif Shafak
Boekentip van Ruud: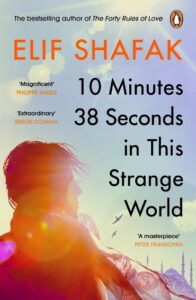 'The story of Leila, her friends and Istanbul is beautiful, sad and important. Read this book!'
In the first minute following her death, Tequila Leila's consciousness began to ebb, slowly and steadily, like a tide receding from the shore…' For Leila, each minute after her death recalls a sensuous memory: spiced goat stew, sacrificed by her father to celebrate the birth of a yearned-for son; bubbling vats of lemon and sugar to wax women's legs while men are at prayer; the cardamom coffee she shares with a handsome student in the brothel where she works. Each fading memory brings back the friends she made in her bittersweet life – friends who are now desperately trying to find her . . .